WE HAVE A WINNER!!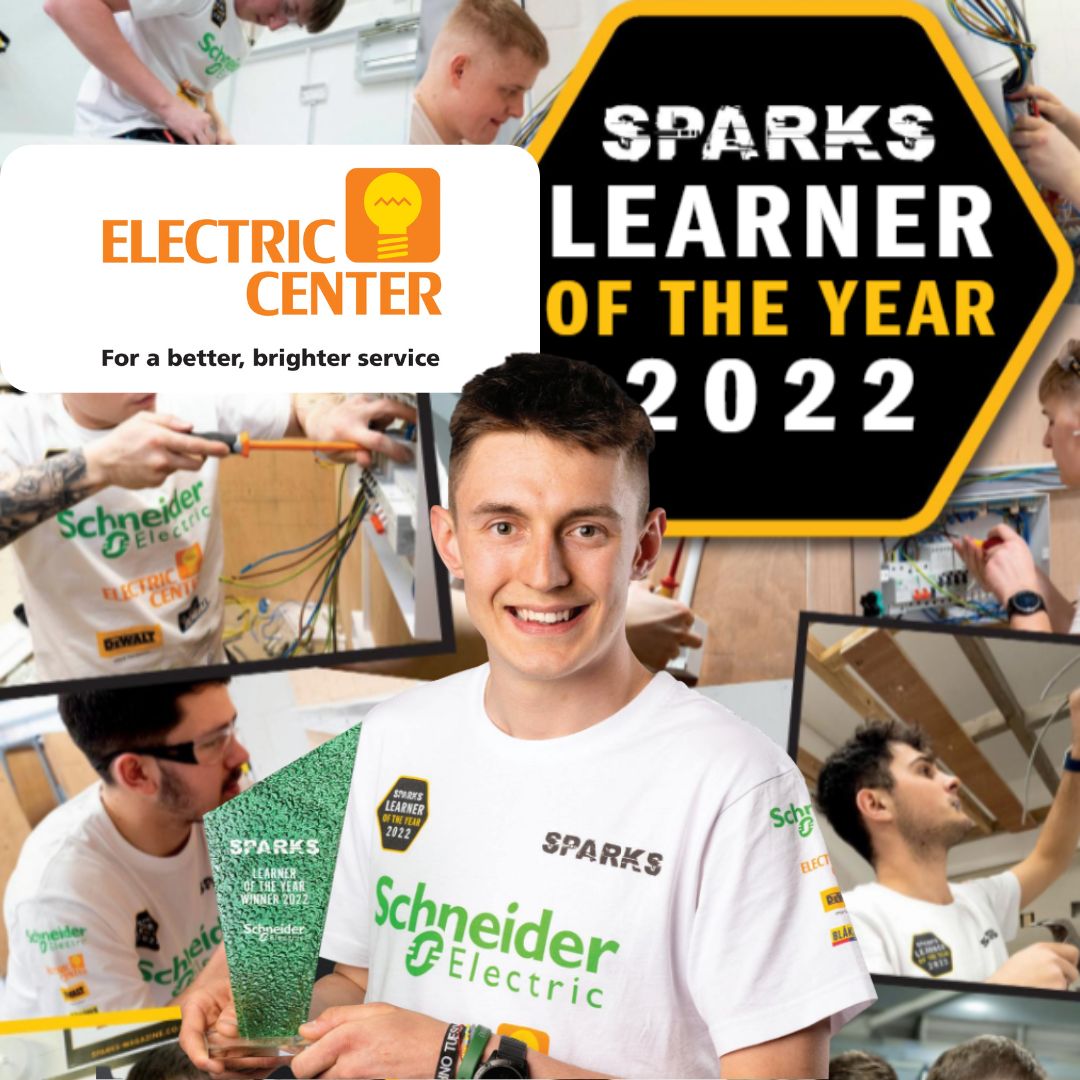 After a gruelling 10 hour final assessment held over two days, it gives us great pleasure to congratulate Benjamin Fox of Exeter College on winning the Sparks Learner of the Year 2022. It was a closely contested final and the 6 regional finalists could only be split by millimetres, but there could only be one winner.
Benjamin walks away with £1000s of pounds worth of Tools Testers and equipment donated by the Electric Center and other sponsors.
We would also like to congratulate the Runner up Thomas Adam and the other regional finalists Paige Morris, Jack Matthews, Luke Halsall-Hart and Ted Stamp, we look forward to seeing you all in our branches soon.
Electric Center Partners with skillELECTRIC

It gives us great pleasure to announce that we are supporting the 2022 skillELECTRIC competition. Across all national heats and the UK final, we will be supplying a range of Acel containment and cables for the competitors to work with during challenging practical tasks to install a complicated set of circuits with various components and equipment. Here at Electric Center we appreciate that the young men and women taking part in competitions such as these are the future of our industry and we're delighted to lend any assistance we can to aid their development.
Women In Construction & Engineering Awards 2021
A massive congratulations goes to our very own Megan Longden of Electric Center Brighton who, earlier this year, was announced as the '2021 Winner for Best Woman in Business Development' in the European Women in Construction and Engineering (WICE) Awards!!

The WICE Awards were created in 2015 to recognise and celebrate the outstanding women forging their own path in our industry, and to highlight role models for other women considering the Construction and Engineering sectors for potential careers. Our congratulations must also go to the other finalists Katie Murphy, Monika Slowikowska, Phillippa Spencer, all are a credit to their profession.
Product of the Month!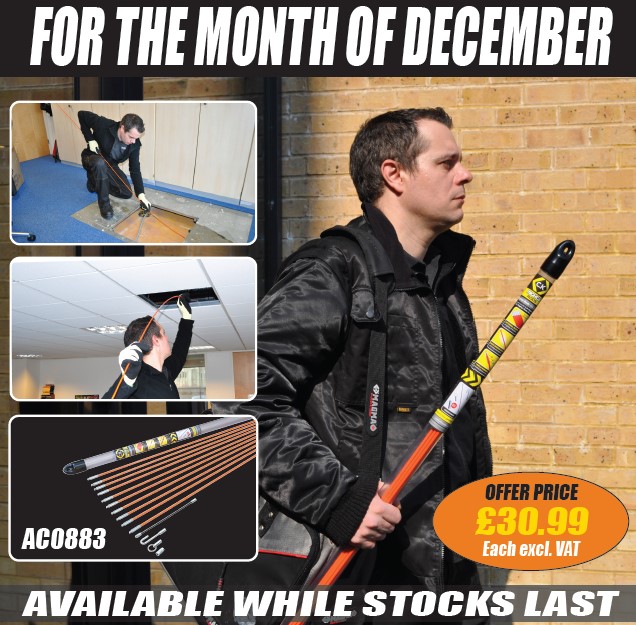 Sparks Learner of the year Gold Sponsor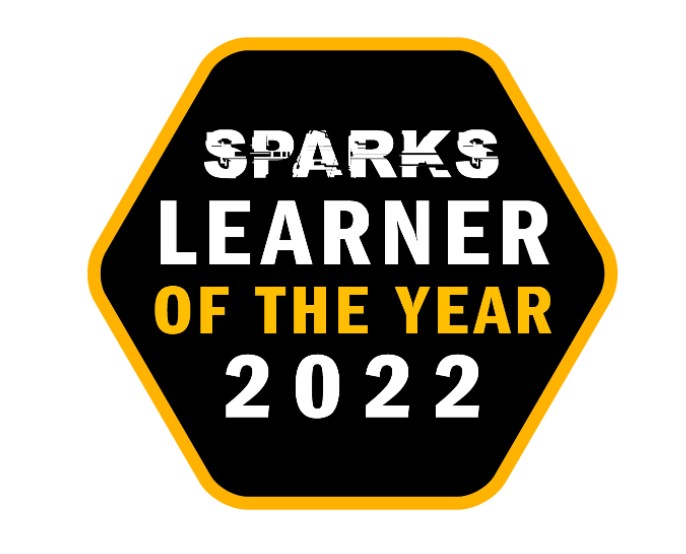 Electric Center are delighted to announce that, once again, we are a Gold Sponsor for the Sparks Learner of the Year competition.
This yearly competition routes out the best electrical apprentices across the UK through a series of regional heats. The regional winners will compete in the Grand Final in Coventry over 2 days in April.
We cannot wait to see what the next generation of Electricians are capable of!
Product of the Month!

New Scottish Fire Legislation

Product of the Month!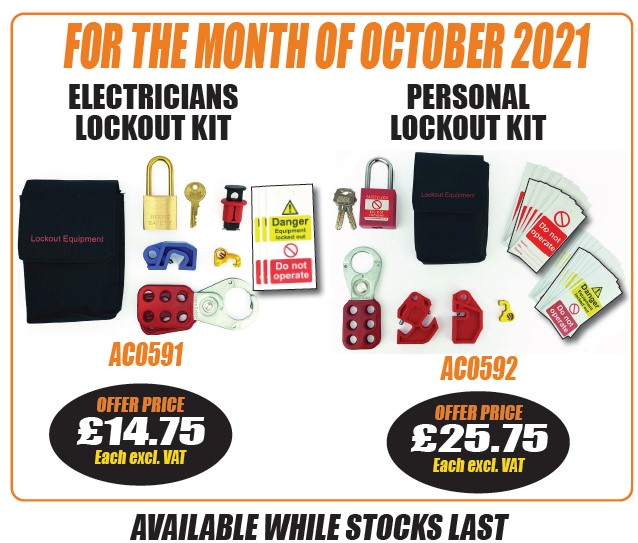 The sale of Halogen light bulbs is banned from September, are you LED ready???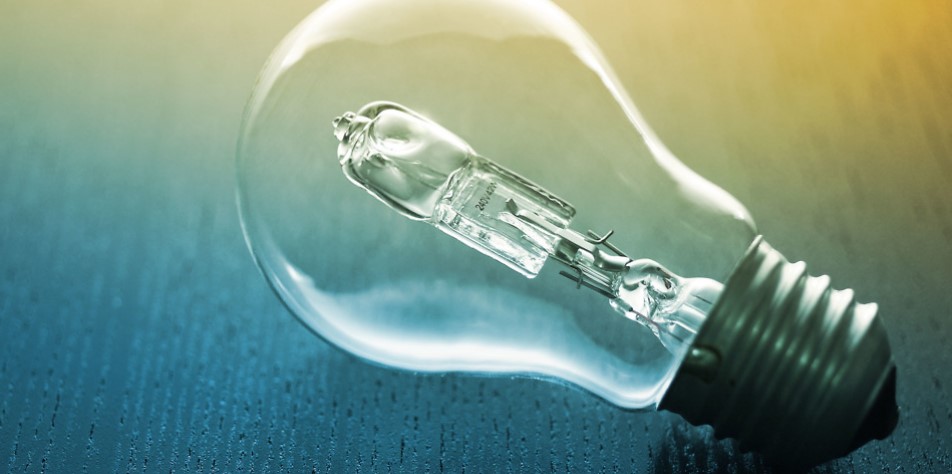 Halogen bulbs are hugely inefficient — especially when compared to their LED counterparts. The average halogen bulb will use around £11 worth of electricity each year, while an LED light bulb will typically only have an annual running cost of £2. The UK government have banned the sale of halogen lamps from September 2021 and fluorescent lamps will follow in 2023. If you still have working halogen bulbs in some of your home's light fittings, you don't have to remove them until they burn out. Once they're no longer fit for the job, you can simply switch them out with an LED alternative that's guaranteed to be more energy-efficient and will last longer. However, if you would like to start saving money / the environment sooner, you might decide to swap your halogen bulbs for LEDs before they stop working on their own.
We have a full range of high quality Acel LED Lamps suited for all applications.
Check with your local branch for more details.
Product of the Month!

Product of the Month!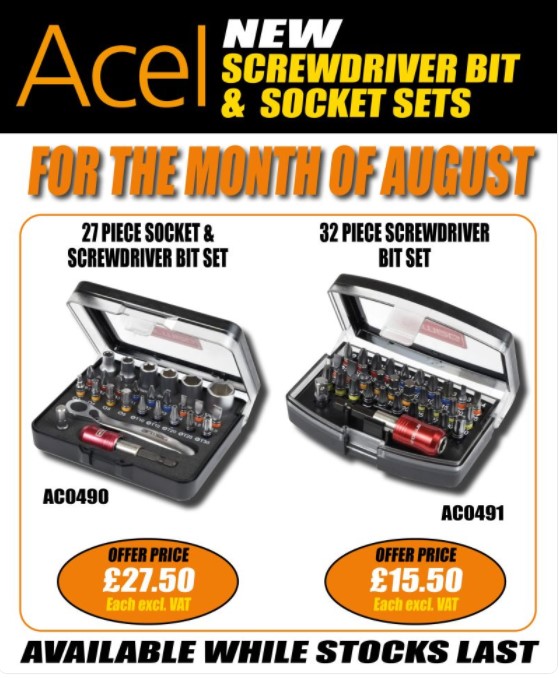 Product of the Month!

Tom Tyler

Tom, who is from City of Wolverhampton College, won the competition beating five other finalists in a live, 5-hour practical installation that showcased his skills and technical abilities in a Covid-safe environment. As winner of the competition, Tom receives thousands of pounds worth of prizes donated by sponsors including The Electric Center. Congratulations Tom on the well deserved award!
Product of the Month!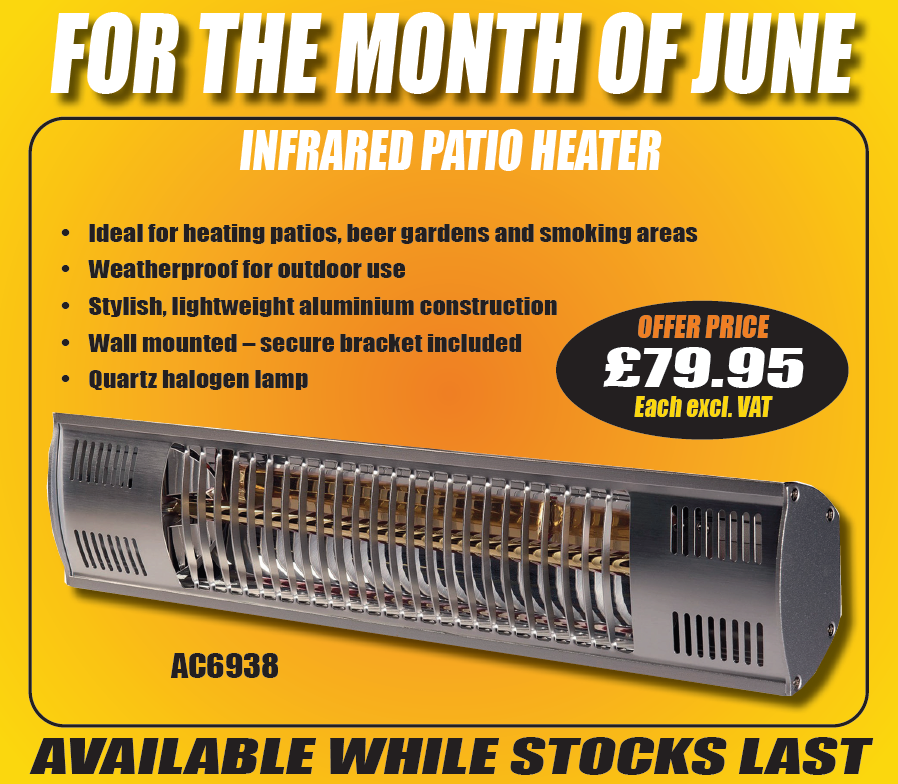 Make the most of the long evenings with June's Product of the month! Available whilst stocks last from your nearest Electric Center.
Electric Center has launched the company's latest Acel electrical products catalogue, providing an easy reference guide to all Acel products in the range.
Available to search directly from the Electric Center website, as a printed 'hard copy' catalogue and also as a 'flipbook' online catalogue, the catalogue is a valuable resource for specifiers, contractors and procurement professionals to find what they need from the Acel range of contractor proven, value for money products.
The new catalogue is Issue #19 and with 500 pages it lists over 5,000 quality assured Acel products with trade prices, making it an ideal catalogue for contractors to use with their customers when selecting products.
Printed catalogues are available for safe collection from Electric Center trade counters throughout the UK or they can be requested from the website for direct delivery to your premises.
Marketing Manager for Electric Center, Jeremy Harris commented: "Our latest catalogue is designed to help our customers select the right Acel product for their needs with clear pictures and accurate product information."

A DOZEN DISTINCTIONS FOR MEGAN!
Megan Longden, Profit Centre Manager at EC Brighton has been recognised by the EDA for her amazing commitment to the Association's product knowledge workbook programme and collected an outstanding achievement award at the recent annual EDA Training Awards which were held virtually on 5th March 2021.
Megan who joined the company in May 2018 not only completed all 12 product knowledge workbooks in the programme in a little over two years but, in addition, managed to get a distinction grade in every one of them! Megan now joins an elite group of learners in the 'distinction dozen' club.
Congratulations Megan on your fantastic achievement and for setting the standard for other aspiring product knowledge learners.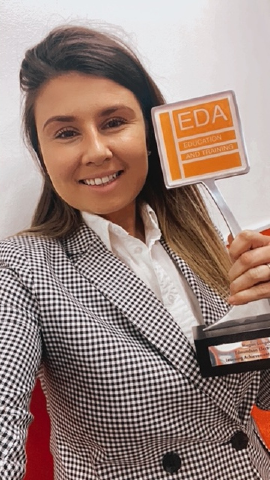 CONTINUED SPONSORSHIP OF SPARKS MAGAZINE'S NATIONAL COMPETITION
Electric Center are thrilled to be sponsoring the SPARKS Magazine Learner of the Year Competiton for what will be the 3rd consecutive year.
Good luck to all the competitors taking part!

NEW 2020/2021 CATALOGUE LAUNCHED
Now available from all Electric Center branches and online, the new Acel catalogue is packed full of electrical products for you to choose from.

SPARKS APPRENTICE COMPETITION GAINS NEW SPONSOR
We're delighted to announce that Electric Center was one of the main sponsors of the recently completed SPARKS 2019 UK Electrical Apprentice of the Year competition.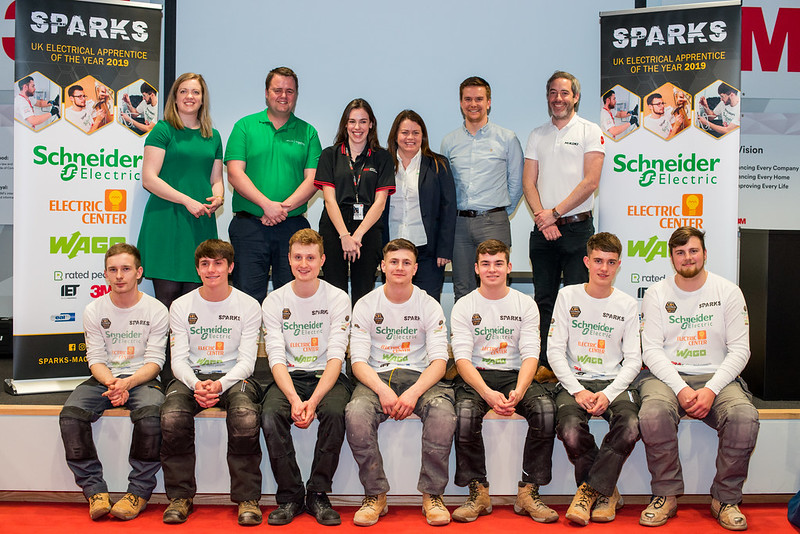 N
E
W 450 PAGE CATALOGUE LAUNCHED
Now available from all Electric Center branches, the new Acel catalogue is packed full of electrical products for you to choose from.

FIRST FIX ELECTRICAL PRODUCTS SUPPLIED TO HELP TRANSFORM HOME
Local tradespeople descended on a house in North Shields in August to help the BBC's DIY SOS team for the popular 'Big Build' TV show which sees them transform the homes of families in need.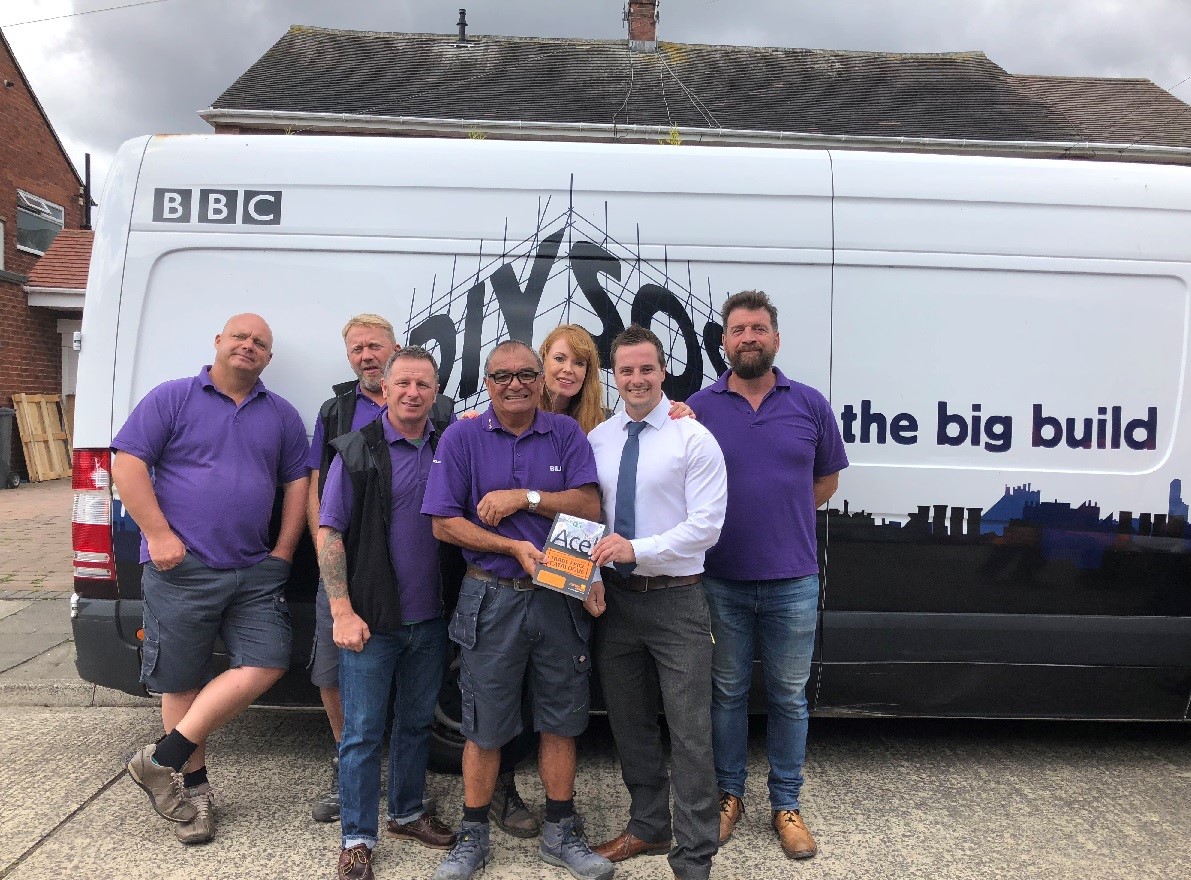 ELECTRIC CENTER MANAGERS JOIN WITH COLLEAGUES TO RAISE FUNDS FOR THE EIC
Eight fit and hardy souls are readying themselves to tackle 13 of Dartmoor's wildest and most rugged Tors in a 2-Day Challenge.